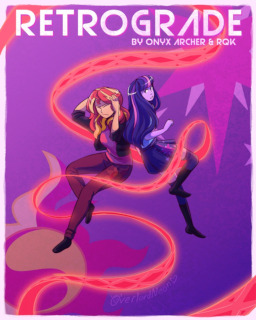 [Co-written by Onyx Archer]
The Memory Stone is gone, and Sunset Shimmer's friends have regained their lost memories... but her own memory has not returned.
Faced with the reality that her friends would lose their memories of one another, Sunset Shimmer dove in front of the magic shot forth from the Memory Stone, and watched as her memories of her closest friends left her bit by bit. In the end, this act allowed her friends to come out on top, and regain what Wallflower had taken from them in her quest for revenge.
With the memory stone destroyed, the question now is how to restore her memories. After all, who was she without the memories of the events that had defined her? Could she still be the same Sunset Shimmer that her friends remembered, or is that Sunset Shimmer gone forever?
Twilight Sparkle of Equestria certainly doesn't want to lose a dear friend. But, perhaps, some things really are forever; some things once done cannot be undone.
---
Featured on 2/18/18!
Coverart by overlordneon
Chapters (12)