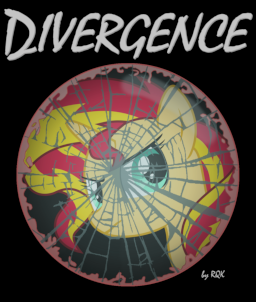 This story is a sequel to Substitute
---
A great evil is destroyed and its wards are so too. But now a fragment of that evil is on the loose and is unchecked.
Between an awakened seal threatening to soak up Equestria's magic, a long-dormant thorn now budding, and changes to once well-understood rules, the final pieces of a partially solved puzzle are in place and are ready to be filled in.
The greatest trials may produce the biggest revelations, transform the tightest bonds, and perhaps even lead to salvation. The cost, however, is first the breaking of everything.
---
The Crystal Ball Trilogy is a series of stories which deal with time travel, parallel universes, and other manipulations of time and space. Divergence is the last story; it is preceded by Feedback and Substitute.
---
Digital pdf version here
Print book version here
Featured on 2/6/19!
Edited by James Fire
Chapters (18)