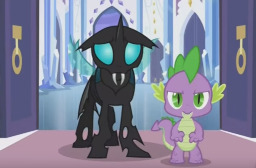 During "The Times They Are a Changeling", Spike was able to use the magic of song to prove that Thorax wasn't evil, convincing everyone in earshot, especially Shining Armor and Cadance to trust him and let him stay in the Crystal Empire.
... Except what if it hadn't been that easy? What would it take then to prove something like that, especially to a pony who had so bitterly said, "There's no such thing as a nice changeling" ?
---
Yep, an alternate take on the ending of The Times They Are a Changeling, the only part of the episode I felt was rushed.
Proofread by Doctor Candor and Malefactory
Chapters (1)