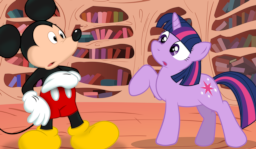 It all began innocently enough. Mickey asked Donald and Goofy to help him find an anniversary gift for Minnie, and settled upon a gorgeous antique mirror.
Unknown to the unwitting buyers, there is another world just beyond the surface of the glass.
Through the magic mirror, all manner of villains, cutthroats and other evils have found their way in, and begun to wreak havoc to steal all the magic they can from the peaceful kingdom of Equestria.
In dire need of a hero, the source of Harmony in the kingdom sends for help, only for the saviors to be nothing more than a plucky little mouse, a hot-headed duck, and a dim-witted dog.
Will the three be able to save the kingdom of friendship? Only their adventure will tell as they journey through the magical kingdom, and uncover the mystery of the missing magic.
Chapters (69)