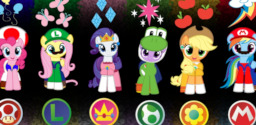 For once, everything is peaceful in the Mushroom Kingdom. And things only get better when Princess Peach's royal friends in Equestria invite her to attend the Grand Galloping Gala with the company of the famous Mario Bros.
While everyone and everypony is having a good time, a cataclysmic event is brought about by a draconian sorcerer...who isn't Bowser! (Dramatic Cello).
Using his awful powers, the villain does away with the Bearers of Harmony, and renders any magic of the Mushroom or Equestrian royalty inert.
Drained of all power, confined to their castle, and with their own heroines out of commission, the powerful royals must rely on the power of the heroes from another land, who may not bear the powers of harmony, but may have something just as powerful: brotherhood.
Chapters (6)