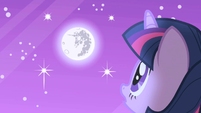 Nightmare Moon was not one to sit about and wait in hopes that she might sometime escape. She would bring about her freedom with her own two hooves!
All she needed was power. Enough to fill the stars and drag them from the skies.
For an alicorn in chains, that was magic she just didn't have. But she could take it; it was only a subject's duty to give of themselves for their Princess's sake, was it not? Still, that would take time, centuries even, and with such thorough bindings she would be unable to take more than scraps from from common peasants.
No, she would need somepony... special. Somepony attuned to the stars themselves.
And if no such pony could be found, then she would make one.
Now with an audiobook provided by Illya Leonov.
Approved by Nonpareil Fiction!
Chapters (1)