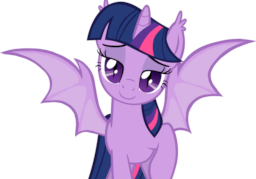 Only a small number of bat ponies remained in Equestria after the disaster of Nightmare Moon. The majority fled, not trusting the nation after being betrayed by their own Princess. But with Luna's thousand year exile having come to a close, it is time for them to rejoin the fold, and no pony is better suited for negotiating that task than the Princess of Friendship herself.
However, when the captain of your escort is Indigo Zap, who suffers from a severe case of Lust At First Sight, and has an ego to put Rainbow Dash's to shame, things get a little more complicated than merely healing millennium-long tensions.
Thanks to bahatumay for pre-reading.
Chapters (2)