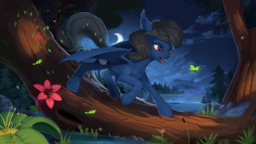 Source
What is a pony? If asked that question the average citizen of Equestria would probably respond with a confused look and a mention of the three pony tribes. A particularly astute pony might reply with four tribes, remembering to include the Thestrals. A pony of a scholarly disposition may also add a list of characteristics as well - manes, cutie marks, some form of innate magic, hooves, vegetarian diet, etc. This is the answer that would have been received for thousands of years, from before the unification of the three tribes until very recently. Until the failed Changeling invasion. With the reveal of something so foreign, yet at the same time so familiar, what it means to be a pony is no longer quite so clear and obvious. And while professors and philosophers argue, another question is forgotten in the uproar: What if the Changelings weren't the only ones who were hiding?
* Always looking for proofreaders if anyone's interested!
Current Proofreader(s): Icarus_Con_Queso
All feedback/corrections welcome!
Chapters (24)