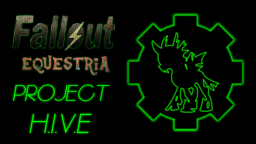 Changelings.
To most, they are the creatures that almost took Canterlot, shapeshifters able to feed on the emotions of those around them.
While this is true, it is not all there is to the story.
When the Great War began, an alliance was struck between Princesses Celestia and Luna, of Equestria, and Queen Chrysalis, of the Changelings.
The changelings, natural infiltrators since birth, would become spies for Equestria. In return, they would no longer be hunted, permitted to continue feeding as they had for countless years before their failed invasion, provided they not engage in acts harmful to the equine government or population at large.
Of course, that was simply the beginning. As the war began to escalate, Stable-Tec, the company responsible for the life-saving Stables, recieved a request from parties that would, as part of the contract, remain anonymous and unnamed.
They were asked to create something new, something that would allow both changelings and ponies to survive, and promote harmony between the races.
They were asked to create...
Project HIVE
Chapters (25)