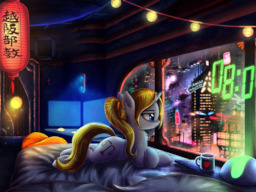 There comes a turning point in every civilization where the future is dictated by the smallest decision.  Be it the will of a king or the cascade of changes by a commoner, it rarely matters the source, only the outcome.  So it was that, shortly after banishing Nightmare Moon, Celestia envisioned a world that could have accepted, loved, and embraced her now lost sister; an Equestria that had to cast off the simplicity of agrarianism and stanch traditionalism.
Instead of relying on the old ways as a bedrock for the six tenets of harmony, Celestia pursued this vision by lauding the advancement of magic and technology.  Over the centuries, cities of marble and stone were replaced by steel and glass. Family farms commercialized, business and trade expanded the world over, and the streets brimmed with cars.  The nobility long since traded away the power backed by titles for influence via companies. Megacorporations now dominate the skylines of every Equestrian city, yet Celestia still holds fast to the reins of true power.  Her word is law.
Even centuries after Nightmare Moon's banishment, harmony is still in the bedrock of Equestrian society, yet one must dig to find it under so much soil and refuse.   There have always been those that chafe against the law and give lip service to harmony. Be they the rich and powerful figureheads of industry, or the scum of the underworld, there are always things these ponies in power need done discreetly, or at least deniably.  Sensitive matters such as these are often handed over to a class of professional criminals as diverse in their skills as they are in their ideologies. The Shadowrunners.
Note: As with my Beyond Equestria story, I am taking a lot of elements from the Shadowrunner series, but it will be written so that anyone unfamiliar with Shadowrunner can understand what's going on and enjoy the fic.
Chapters (15)