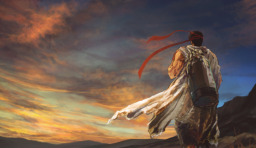 The journey to be the best. Many have taken this road and many have fallen to the wayside, for this is a road that few can conquer. But it is the road that a certain warrior takes, no matter where it leads him.
And now Ryu finds himself in the land of Equestria, a strange land for one such as himself. But here he shall seek to improve himself while fighting the best ponies in the land to reach the pinnacle of fighting. For Diamond Tiara he is a master who can help her overcome her foes and herself. For Rainbow Dash he is a rival to defeat so she can prove that she is a great fighter. And for Zecora he is a student that she hopes to keep on the right path.
But the ponies must be careful of this noble soul, despite his calm and kind demeanor. For if pushed too far they might see that even the most kindhearted of fighters...can house deep within a raging demon.
Chapters (28)