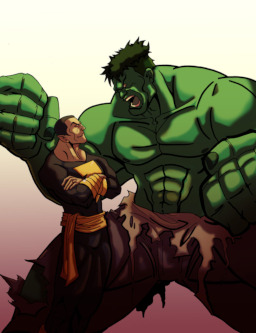 This story is a sequel to He Who Wields The Lightning
---
TEAM UP TIME!
This may be my only chance to save them, if they can be saved. I pray that Celestia is not yet consumed by the power or that Luna has not completely given into her hatred yet. But they have put Equestria at war with itself. And then there's Black Adam...I know that I cannot save them, but hopefully my champions can. And if they cannot save them and attain their Elements...then we will all face destruction.
If you have not read my other stories you will be confused as heck. But don't let that stop you from diving on in. Warning. MAJOR multiverse. If you don't like that thing, odds are you won't like this.
Banner, Adam and Ryan will be in the spotlight more so than the other characters as they are the one's whose character arcs need finishing. That's just how this turned out.
Pic by karate-chop.
Chapters (47)