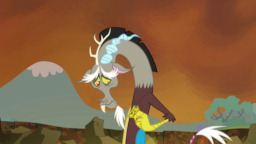 Source
So, four days ago, Tirek brought Equestria to its knees—with my help—only to turn on me—which I really should have seen coming, but that's hindsight for you. And then some stuff happened involving—of course—rainbows, ugh, and now I'm here. Helping pay off my debt to the nation by fixing things which may or may not have been broken by me in the first place, like a good draconequus should.
Problem is, doctor, I've been finding myself preoccupied as of late, and I really just can't see why...
One shot written after a discussion about Discord's actions during the season finale.
Featured 7-31-14! Wooooo!
Has its own entry on the Dusk Guard Saga's TV Tropes Page.
Chapters (1)