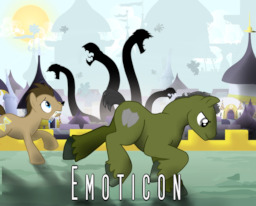 Source
Adventure
Crossover
---
This story is a sequel to
Old Habits
---
It's Steel Song's day off, and he's got plans. Plans of the relaxed sort. He's going to eat out somewhere besides the Guard cafeteria. Enjoy Canterlot's parks. Visit his family. And then, spend the evening with the most amazing mare he's ever known.
Of course, when he bumps into a strange brown stallion in a Canterlot square, it's hard to not be a little suspicious. Especially when said stallion talks as if he's known Steel for years, and they've never met before. Surely it can't hurt to follow the stallion and make sure nothing's wrong, right? Of course not. After all, it's a day off.
Fourth of the Side Stories to The Dusk Guard: Rise. Familiarity with Rise is not required per se, but recommended.
Side Stories so far:
Emoticon
The Saga has a TV Tropes page! Please help keep it up to date!
Special Thanks to Jorlem and Sinister Voice for their help pre-reading, editing and getting a summary together.
Art by FaisLittleWhiteRaven