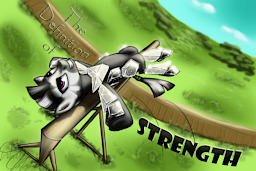 Source
Adventure
Romance
---
This story is a sequel to
Carry On
---
When a monk has learned all he can learn, he is sent forth on a pilgrimage. A search for knowledge, guided only by a single question, never to return home unless they find an answer. Sabra has been searching for three years, and at long last, he may have found his answer.
It may just not be the answer he expects.
Second of the Side Stories to The Dusk Guard: Rise. Familiarity with Rise is not required per se, but recommended.
Side Stories so far:
The Definition of Strength
The Saga has a TV Tropes page!
"This is 100% Approved by Twilight's Library!"
Added to Twilight's Library 1/21/2014
Featured on Canterlot's Finest
Special Thanks to Sonorus, Jorlem, Sinister Voice, Templar22, Bronze Aegis and JinShu for their help pre-reading, editing and getting a summary together.
Art by dpjohnson22