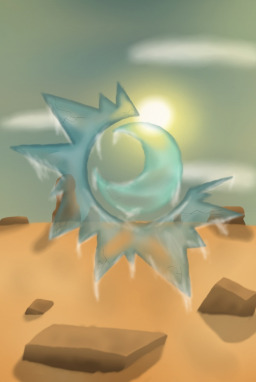 Source
This story is a sequel to The Dusk Guard Saga: Rise
---
"Viking ZX has pride in the fact that he can throw his readers into a ride." —PCaRG
"... an exhilarating romp that leaves you guessing half the time and keeps you thrilled throughout." —PaulAsaran
"... you'll enjoy this one." —City of Doors
Blade Sunchaser is a griffon on the run.
Seven days ago she was the bodyguard of two of the wealthiest railroad magnates in Equestria. One day after that she was in a jail cell.
She didn't stay there for long. She's got a job to do, a job with a payoff bigger than any she's ever earned before. All she needs to do is track down two stolen bits of crystal and bring them back to her employer. Stolen bits last seen being taken north, past Equestria's furthest borders, into the lawless wasteland known as the Ocean of Endless Ice. A haven of ice dredgers, criminals, and pirates ripe with violence, danger, and dark secrets. But for this kind of payoff, the danger is nothing. She'll face anything, go anywhere, and do whatever it takes to see her mission through.
Even start a war ...
Book II of The Dusk Guard Saga
Epic Fantasy
Equestrian Map of the Ocean of Endless Ice
Official Series Timeline at [url=https://www.fimfiction.net/group/204855/the-dusk-guard-saga/thread/127607/the-dusk-guard-saga-timeline]TDG Group Forums
Can be found on TV Tropes at The Dusk Guard Saga's page (Page outdated)
Cover art by Midnight Sonare
Alpha and Beta read by Siers, Raptra, and Jorlem.
If you encounter what you think are typos in the story, PM them rather than clogging the comments feed with them.
Author's note: From time to time you may encounter a hotlink in the text. These hotlinks are background themes and can be clicked or passed over at your own choice. It is recommended that for maximum enjoyment beforehand, make sure that your volume settings on YouTube are at a comfortable level and make use of Ctrl+Shft+Clicking or the middle mouse button to open the song in a new tab, where it will play automatically without your involvement.
Or just don't click on them until later. They are an entirely optional experience, and can be passed over without incident.

Chapters (39)