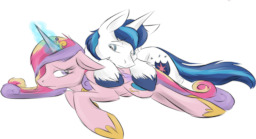 Source
The life of a mother is challenging, but the life of an expectant one is excruciating. Maybe one day, Princess Cadance can reach the challenging part. For now, all she faces is the cold bathroom floor and a solid bout of nausea, and she is losing miserably.
Can she survive this morning?
---
Approved by Twilight's Library.
Chapters (1)