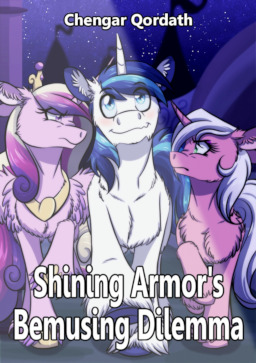 This story is a sequel to Shining Armor Follows His Muse
---
Shining Armor is a very happy stallion. Why shouldn't he be happy? He has a good job, good friends, and just a good life overall. Sure, it would be nice if Cadance saw him as more than just a friend, but that's a pipe dream. At least things are going well with his RPG group—especially now that they've been joined by a lovely fey mare named Musette.
Even better, Musette and Cadance are on the road to becoming best friends with each other. And really, why wouldn't they get along? It's not like either one of them could ever be interested in Shining, or would have any reason to not like each other.
Yup, everything is going to be just fine.
Chapters (2)