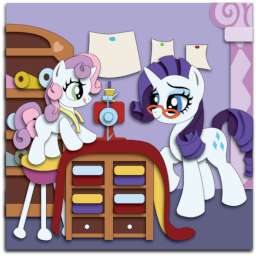 Source
Rarity's latest design, the möbius scarf, brings a new dimension to fashion... literally. Unfortunately for Sweetie Belle, she's about to experience this new dimension firsthand. Luckily Twilight and Fluttershy have a lot of experience in dealing with dimensional rifts.
Hope you kids like barely-passable science jokes.
---
This one you can blame on FloydienSlip because when I jokingly said the words Möbius Rarity, he told me to write it, not realizing that I'm me. The foolish fool...
Chapters (1)