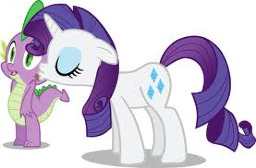 Source
A pair of romantic vignettes about blossoming love, too short for publishing on their own but surprisingly sweet when put together.
In 'Just a Glimpse,' Flash Sentry will endure almost anything to see the princess he pines for, even if it's just the slightest glimpse.
In 'Suddenly, Spikey,' Spike tries to console Rarity after she gets stood up...again. Will his words finally make her see the light?
Chapters (2)