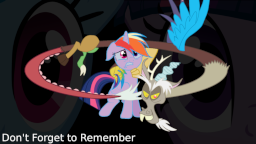 This story is a sequel to Veil of Thoughts
---
After surviving a spell that merged Twilight and Dash into a single being during the story Veil of Thoughts, the two mares are still struggling to get back to as normal a life as they can have. Except, didn't they used to have more friends? Why is it so hard to remember…
The boundaries of reality are starting to crumble apart. Half dreams haunt their waking world. Memories of another life seep through their mind. What they were is quickly becoming little more than Fragments of Memories.
Friends, family and even enemies will come together to save Twilight Dash before it's too late and there is nothing left to save.
The long awaited, highly anticipated, sequel to Veil of Thoughts. Don't forget to remember.
Chapters (23)