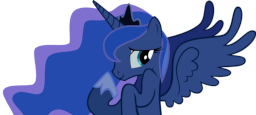 Source
Featured on Equestria Daily
Review by PaulAsaran
Grace, beauty, elegance.
Princess Luna embodies all of these traits as she faithfully attends to her royal duties. Yet sometimes, with the repetition of raising the moon each night and the tedium of hearing endless appeals for various favors and assistance, a princess just wants to have a little fun.
Enter Pinkie Pie, who knows just what Luna needs.
Thanks to Brumby_Run for the story idea.
Chapters (1)