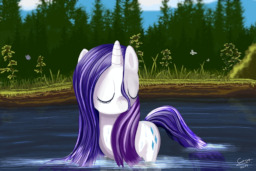 Source
Featured on Equestria Daily.
Review by PaulAsaran
Review by Cerulean Voice
Review by Titanium Dragon
While visiting Twilight Sparkle, Rarity stumbles across an old book that, upon first glance, seems to provide a detailed insight into time-worn customs on the preservation of beauty and grace. Eager to expand upon her knowledge, she takes the book home with her.
She soon discovers that the book offers more than she ever could have imagined, and its secrets can be hers...
...if she's willing to pay the price.
Prompt and editing provided by Cold in Gardez
Additional editing provided by Themaskedferret
Chapters (1)