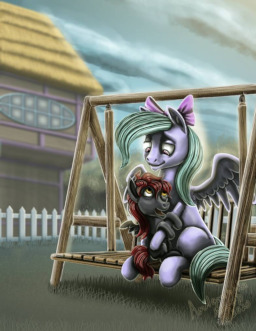 After an acident at a Concert, I wake up in Equestria with all my memories intact. Trying to create a new life will be a challange I have to face, but it proves to be difficult in a society that is the complete opposite to what I am used to. Will I manage to find my place here in my new home or will it just end in another failure?
This story is named after the song that gave me the courage to finally start posting here.
Sex Tag is only for implied sex in the later chapters.
Edit 02.06.2020: Changed rating from E to T for the fool language, what I plan to do, and for implied sex in the later chapters.
Cover by the amazing Mix-up, check out his DA here.
Big thanks go to rikithemonk for his help with editing this story until the Interluder VI. Ch. 33, 34, and 37 are edited by Luckyfanisaac. Also many thanks go to Javarod who joined the team as a proofreader.
From now on, you find out who helped with what in the AN of each Chapter.
Featured on 21.12.2020, Thank you guys for all of your support, otherwise this wouldn't have been possible.

Chapters (45)