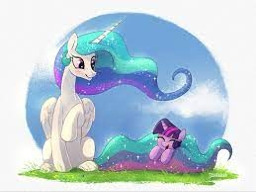 The time has come for Celestia to have a one-to-one lesson with her personal protege, Twilight Sparkle. She is, no doubt, a bright young unicorn and it doesn't take her long to understand the overall concept of the teleportation and transfiguration spell. That is not to say the lesson went perfectly well as Twilight's magic takes a haywire spin and does things unimaginable coming from a foal.
Edit: Oh the stars and galaxies, this thing got featured on 05/02/2023!!! Thank you!!!
Second Edit: OMG! This is the first time my story landed on top of the featured list. Thank you so much!!!
Third Edit: Audiobook version by The Mystery Fluttershy Fan! https://www.youtube.com/watch?v=BbCgCNefS8A
Fourth edit: Featured on Equestria Daily
Chapters (1)