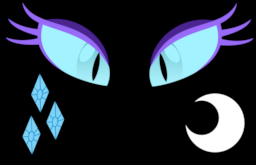 Source
As part of Princess Luna's retirement, she needs to hand off her duties in the dream realm to another pony.
She has chosen Rarity to succeed her - but for a reason that Rarity is less than happy about.
Rarity has tried to forget the Nightmare, after all.
---
Reviewed in Ghost Mike's Monday Musings with a rating of Really Good!
Featured 08/28/2022 - 08/31/2022!
Chapters (2)