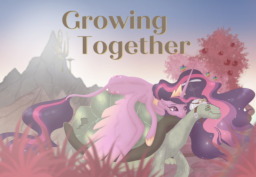 Everyone always tells Twilight that the ones who love us never truly leave us.
But that's a lie. It's always been a lie.
Things that live must also die. It's simply the cycle of life, and that cycle doesn't care about love or the pain it causes.
Until one day, that cycle is broken by a forgotten figure from her past: a little tortoise who's not so little anymore.
---
This story is, first and foremost, a gift for the incomparable Mushroom, who clearly must be some sort of undiscovered species of fungus dog since we definitely don't deserve her. I have it on good authority that this story gave her Many Feelings, and I hope it gives them to you, too. :)
This also won first place in the of the Quills and Sofas Speedwriting '2021 Gift Fic Exchange' contest portion, which is neat.
Cover art commissioned from the lovely Shaslan!
Chapters (1)