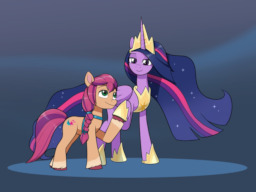 Source
Massive spoilers for A New Generation!
---
Sunny Starscout has helped restore unity among ponies. Even more astonishing, she has become an alicorn, a fusion of all three tribes. What does this mean for her future? In the aftermath, Sunny is visited by somepony who may be able to shed some light on that subject.
---
Now with an audio reading!
---
Featured from Oct 3-5.
Chapters (1)