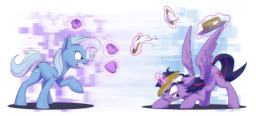 Source
Twilight and Trixie are going at each other again. Starlight can't take it anymore. Now that she thinks about it, why are they always fighting? What reason could they have?
---
A quick comedy story I wrote to keep myself busy. Cover art by Tsitra360.
Edit: Why did this get featured?!
Another edit: EQUESTRIA DAILY, ARE YOU KIDDING ME?!
Also has an audio reading here!
Chapters (1)