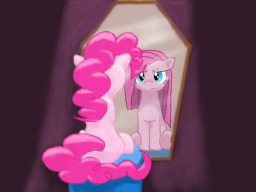 Source
I've spent the majority of my life tilling the desolate land in which I live. Every day, I wake up to move useless rocks from one location to another. This is an archaic line of work that my family has clung to for generations. It is a dull, grey existence.
Today, I have woken up in a strange room, lying in a bed that isn't mine. I'm surrounded by five mares whom I've never seen in my life. They claim to be my friends, and expect me to bring joy to the hearts of everypony.
Joy? I don't think I've ever experienced this for myself, so how am I supposed to thrust it upon others?
My name is Pinkamena Diane Pie, and I'm not sure what to make of this situation.
Chapters (11)