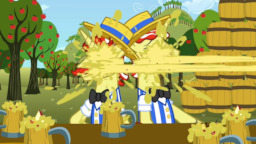 The Flim Flam Brothers don't have a particularly upstanding reputation for their product. They're creative, sure, but quality just isn't on their priority list.
When the two of them decide to try their luck in a city known for parties, gambling, and most importantly, booze, the Flim Flam Brothers will quickly learn a valuable life lesson.
The citizens of Las Pegasus are not to be trifled with, especially not on a bad day.
Chapters (1)