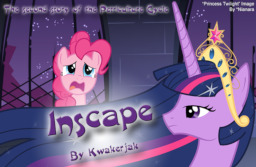 Source
This story is a sequel to Petriculture
---
It's been several months since Pinkie Pie made a stunning admission about her past that permanently changed her relationship with her friends, particularly Twilight Sparkle, but life seems to have settled back to normal (well, normal by Pinkie Pie's standards, at least). However, when an old nemesis returns and ensnares Twilight in her influence, it's up to Pinkie to make things right.
This is the second story in The Petriculture Cycle. There is a TV Tropes Page for the entire Cycle here.
Cover image by Page Turner; "Princess Twilight" vector by Nianara.
Chapters (7)