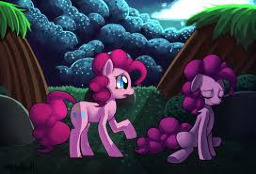 Source
"YOU ARE NOT THE REAL PINKIE PIE!"
"You probably shouldn't even exist."
"You're only a clone, you don't HAVE any feelings!"
Who was she to believe? She was barely a day old, and already she'd seen the disappearance of her mirror images, all but her. Was she just a clone? A disposable unfeeling analog?
What would happen if she became her own pony? If she became real?
Is it possible for one of the Pinkie's, the only copy left behind, to develop? To become an entirely different pony to the one that she was modelled after?
Oh, and before I forget, thanks to the amazing WerewolfNobody for the (At one point) cover art!
Featured on Equestria Daily!
Chapters (12)