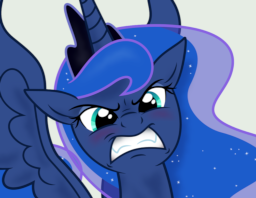 Source
Princess Luna has been agonizing over the best birthday gift for Twilight Sparkle. Running out of time and short on ideas, she turns to Twilight's friends for suggestions.
As it turns out, that was a mistake.
Fortunately, everypony involved will survive the experience (mostly) unscathed.
---
Now with a reading by StraightToThePoint.
---
Featured from 3-8-21 to 3-11-21, peaking at #1. Thanks, everypony!
Chapters (1)