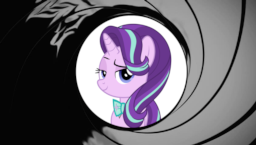 This story is a sequel to The Manehattan Sanction
---
Starlight Glimmer is one of the most trusted members of the Special Branch of the Equestrian Intelligence Service. When the job must be done, she is the one they send.
Sometimes, those missions are filled with action and danger, romance and violence.
Other times, they involve freezing your flanks on a park bench, waiting to see if a promised defector shows up bearing the state secrets Equestria would very much like to get their hooves on...
---
Cover art crafted by my friend CrazyDiamond, using art from a few different sources.
---
Featured 5-9 to 5-10-2023, peaking at #3. Thanks, everypony!
Chapters (1)