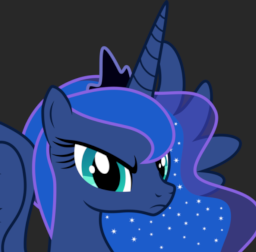 Source
Cadance, Princess of Love.
Celestia, the Lightbringer.
Twilight Sparkle, Princess of Friendship.
Luna, Mistress of the Night.
Of the Four Princesses, Luna is the one that the Four Demons know the least about. Sure, there was that business about being Nightmare Moon and being banished for a thousand years, but how threatening can the Princess of the Night - a princess that plays second fiddle to her elder sister - really be?
Luna isn't insulted. She prefers her enemies stupid anyway.
---
The fourth and final story in the Four Princesses, Four Demons series, following up Cadance the Unbroken, Celestia the Indomitable, and Twilight the Triumphant.
Reading the other stories is encouraged, but not required.
---
Featured from 02-17-21 to 02-21-21, peaking at #1. Thanks again, everypony!
Chapters (1)