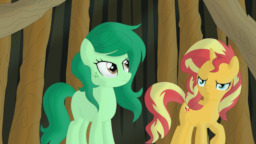 It has been weeks since the destruction of the Memory Stone, and over this time, Sunset has been developing feelings for Wallflower as she and her friends help her become visible to the rest of the school.
Wallflower has also developed feelings for the girl she once hated, now knowing who she truly was after the Fall Formal, and admiring her just like everyone else at school.
However, despite sharing the same feelings, the girls still aren't able to finally confess their love, so one day, Sunset decides that maybe a trip to Equestria could give them the courage to finally express their feelings.
But her plans run into an unexpected detour, into the Everfree Forest.
Great thanks to Shimmeringsun for not only pre-reading this story, but also giving me suppport and ideas to make this tale what it is. Go check their stories, you won't regret it!
Chapters (7)