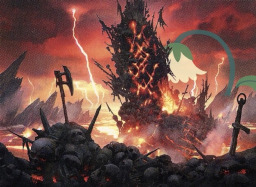 A sky of eternal storms that offer only lightning, never rain.
Rivers of molten rock.
The howls of unthinkable horrors in the distance.
The demon knows this is not her home, that she seeks something she cannot leave without. But she can remember so little else...
An entry in Scampy's Sunflower Shipping Contest.
Main piece by Cliff Childs. Wallflower's cutie mark vector by CloudyGlow.
Chapters (1)