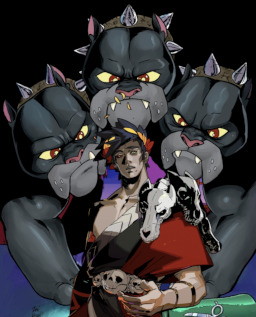 Source
Sing, o Muse, of impetuous Zagreus: Scourge of shades, son of Hades, Prince of the Underworld. Few tales are told of him and even fewer truths. But what follows, though wilder than the most outlandish Orphic fiction, is still as true as an oath sworn on the Styx. For the depths of his father's realm contain passages unplumbed by any, and gates to realms undreamt of by god or man.
But by pony, they are well known indeed.
A crossover between issue #82 of the main MLP comic and the game Hades. Cover synthesized from works by Pencils and Supergiant Games. Contains some game spoilers, including some several millennia old. Rated Teen solely to allow the content warning.
Prereading provided by Akouma, Bugsydor, Caliaponia, and SirNotAppearingInThisFic.
Chapters (1)