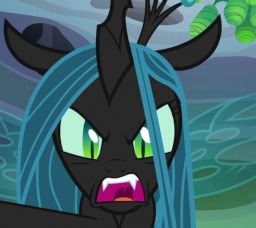 This story is a sequel to Nopony Interrupts My FRIENDSHIP SPEECH, Starlight Glimmer!!
---
After a failed rescue mission to save Princess Twilight Sparkle, Pinkie Pie, Rarity, Rainbow Dash, Applejack, Fluttershy, Spike, Flurry Heart, and the other Princesses, Starlight Glimmer found herself helpless against the might of Queen Chrysalis and the Changelings. It looked to be all over for them and Equestria.
That is, until Starlight started acting odd when Chrysalis teasingly said "friendship speech" and Thorax informs Chrysalis why Starlight was acting the way she did. Afterwards, things got nuts.
Will Twilight and the others be saved from their cocoon prisons, and will Chrysalis be able to help(?!) Starlight?
This story takes place during the events of the season 6 finale. But the season 5 finale did not happen in the continuity of this story, but Starlight is reformed and is still Twilight's student. This story's predecessor would explain why, and it took place during the season 5 premiere.
However, it's not mandatory to read it first to enjoy this story (and laugh) since enough will be explained to understand what's going on.
Last but definitely not least, special thanks to TheHardie-Boy For proofreading this story.
EDIT: Made the featured list on 09/19/19!!
EDIT on 09/20/19: After thinking about it, I added the "Dark" tag to this story. It should fit what will happen in it.
Chapters (1)