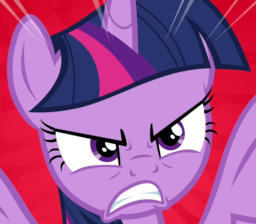 Cornered by Princess Twilight Sparkle and her friends, who just got their Cutie Marks back, Starlight Glimmer thought Twilight was ready to "bore" her with a friendship speech.
However, thinking of how Starlight interrupted her earlier friendship speech attempt by yelling at her to be QUIET, Twilight wasn't planning to give a speech this time. Not least, not quite like the ones you would usually think of.
This may not end well for the former ruler of "Our Town" if she doesn't start running!
This takes places in part 2 of the season 5 premiere...obviously.
Chapters (1)