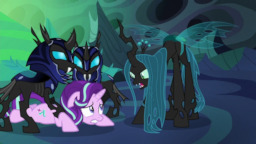 Pinned down and powerless, Starlight Glimmer found herself in a seemingly hopeless pinch. Her plan to save Twilight Sparkle and her friends from the changelings failed.
With no help in sight, is Starlight and Equestria finished, or could something Twilight sometimes do be the key to saving the day? At the very least, Starlight will get answers to various topics that she had always wanted to know...and then some.
You may be surprised by who will be in the most trouble when this is all over.
Chapters (1)