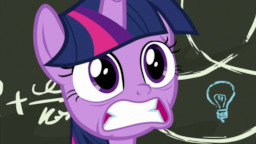 This story is a sequel to Alicorns and Beards
---
When Eric Reed claimed that he had learned how to predict the future, Twilight Sparkle was understandably skeptical about it.
However, Twilight quickly found herself aghast when Eric successful pulled off his boasts. Eric is just a regular human, so it shouldn't be possible for him to do this kind of stuff...right?
Will Twilight figure out how Eric learned to do something that not even she, an alicorn, can do?
This story happens three days after "Alicorns and Beards". But, it's not needed to read "Alicorns and Beards" first to understand this story (and laugh) though it would hint at one of the reasons why Eric chose to perform his tricks to Twilight, besides that she's Twilight.
This story also takes place after the events of A Giant Adventure to Equestria and it's also not required to read first, other than to learn Eric Reed's backstory and how his bond with Twilight and the other characters formed.
EDIT: featured on 06/19/20 & 06/20/20!!
Chapters (4)