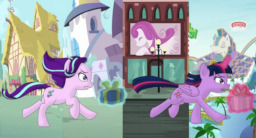 Today is the 19th birthday of Eric Reed, Equestria's only human, and it is his first birthday in Equestria. Pinkie Pie planned a party for him to celebrate.
Also, the two ponies that are the closest to him, Twilight Sparkle and Starlight Glimmer, forgot all about his special day and panicked. With Spike's help and with hours before the party, will the two desperate mares find the "perfect" gift in time?
And how many times will Spike tell them they are overreacting?
This story takes place after the events of my A Giant Adventure to Equestria story. However, it is not required to read it first to enjoy this story, other than to learn how and why the human OC Eric Reed is in Equestria, and how his bonds with the other characters formed.
Last but far from least, special thanks to The Sleepless Behlolder for the great cover art and to TheBrokenBrony for proofreading this story.
Chapters (4)