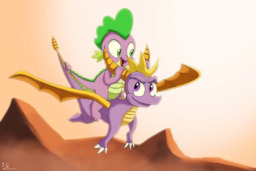 Source
Adopted by a dragon couple instead of by the Sparkle family, Spike's life was set to take a very different course indeed...
Follow him now through love, laughter, and loss as he learns his way around the realms of Avalar. And oh yes, tries not to drive his adoptive parents up the wall... too much anyways.
Did I forget to mention said adoptive parents are Spyro and Cynder? Oh yes, this is a thing now.
(Spyro the Dragon is the property of Activision. I own nothing. Partially inspired by Welcome my Little One)
Featured on 7/13/19
Now featured on 4/21/20 as well. And on 4/24/20 as well! Jeez! ...and on 5/23/20 as well. Huh. Featured one last time on 7/24/20.
Chapters (20)