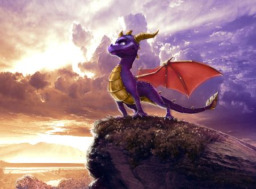 After Spike's growth spurt, Celestia decided that its time for the young dragon to be taught what it means to be a dragon. So she contacts the distant universe of Avalar and asked Spyro to teach the young drake, which of course Spyro accepts. Now Spyro must deal with training a dragon who doesn't act like a dragon, keeping the populace of Ponyville under control, and fighting off the remains of the Dark Master's forces who have somehow followed him. Luckily he's got Cynder and Sparx alongside to help...right?
EDIT: Very late in saying this bu thank you everyone for getting this story to be featured. Means a lot to me.
Basically this is a T-rated crossover that takes place after the events of Dawn of the Dragon. I should mention that this story will contain spoilers for anyone who hasn't played that game. Of course, I don't own anything except for this story.
Chapters (39)