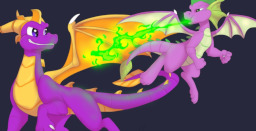 Source
Cover art by avaroncave.
Co-Author: alphasteel
---
One dragonfly. Two dragons. Three brothers. Six ponies. One family. One legend for all!
When the realm of magic is under attack by the Dark Master and his Dark Army, two dragons will unite with their friends to put together a team, and fight back for the forces of good.
---
Additional Tags:
Comedy for Sparx and Pinkie Pie's antics.
Chapters (19)