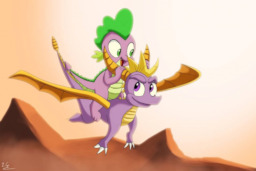 After Spyro had defeated Malefor, the world was still being torn asunder. But in the last moments, a bright flash happened, and now he and Cynder are still alive.
That all happened several years ago.
In an effort to try and find Spike's birth parents, Twilight stumbles upon a hidden society of creatures who have been friendly towards ponies for years. Their leaders? Spike's biological parents and two very familiar ones at that.
---
A story somewhat inspired by Spike's Two Mommies - Fimfiction but with barrowed elements from Ponyville goes to the...dragons?? - Fimfiction such as Ember from the Spyro the Dragon franchise falling in love with Spike but with my own spin of the purple dragon also being sought after by a suddenly jealous Rarity and Garble's own sister Smolder. Yet the main ship will be Spike and StD Ember even if I am coming around to Spike & Smolder as a romantic pairing. This is more so for the purposes of this fanfic's plot more then anything.
Spike's not the only one that's going to be caught in the middle of a love triangle though. I have a couple of tricks of my own up my sleeve. Of course, anyone caught saying my other surprises before I reveal them in the comments will see their comments auto-deleted on the spot so...don't.
---
Main ship: Spike x Spyro!Ember
Other included ships:
Twilight Shipping - FlashLight (Twilight x Flash Sentry), MoonLight (Twilight x Moondancer), and TwiDash (Twilight x Rainbow Dash)
Special:
Spike being Spyro's son.
Jealous Rarity (Majorly so)
Normal Smolder
Completely Unnecessary Twilight Love Triangle (I mean, you all should know me at this point)
ON HIATUS UNTIL FURTHER NOTICE!
Chapters (15)