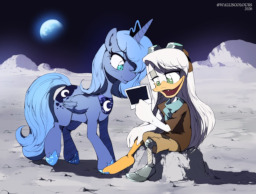 "So, it's been a few months. I haven't heard back from anyone. I need to find some other way to call for help..."
Stranded on the moon thanks to her own recklessness, Della Duck is nearly at the end of her rope. But no matter, she will find a way back home to her boys! Oh, and her brother as well! ...wait, who's that mysterious figure watching her?
Is it madness setting in, or is she not as alone as she thought she was...?
Or where instead of a civilization, Della finds herself alone together with a fallen Princess...
(Ducktales crossover, not making any money off it Disney! Proofread by TheRedParade)
(Featured on 1/19/21 in normal and mature boxes, same on 1/20/21 and same on 1/21/21 and on 1/22/21)
Chapters (1)