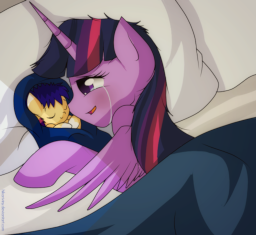 Twilight Sparkle thought that she had felt all that happiness could offer. She had perfect friends, an amazing mentor, and even became part of the Princess monarchy. She was as happy as she could be.
Until one day the news came...
Princess Twilight Sparkle was going to be a mother. And she never knew just how beautiful being a mother could be.
This fic was inspired by the picture, and the title came from it as well. The picture and title do not belong to me. I would like to thank Hikariviny for drawing such a wonderful picture. It inspired me to write the single best thing I've ever written. I don't wanna sound modest, but this story is the one that's most likely to be featured out of all of my stories. If it is featured, please let me know when if it was featured!!! Oh, and WHOO!!! 400 LIKES!!! I FINALLY MADE IT! THANK YOU ALL FOR THE SUPPORT!!!
I understand that many of you don't like that it's Flash X Twilight. It's just who the picture was related to, and I wrote it based on the picture. Please don't dislike it because of this. It's more for the motherly aspect, and not for the shipping. I am very sorry if you do not like the shipping, but please don't be mean!!!
I will be posting songs that inspired me to write each chapter. Trust me, it adds to the feels. Here they are:
http://www.youtube.com/watch?v=UuA3mDHEbTk
https://www.youtube.com/watch?v=oUKM_pcVLq4
Chapters (12)